Websites providing the best free international call could be a great relief for all of us. A free call is always good news, especially if it's international.
Don't you think so? If so, we have got you covered here. We have made the task easy for you by identifying the top sites that provide free international calls to almost anyone.
It's straightforward! All you need is access to a decent internet connection and a computer or smartphone, and you're ready to go.
International phone calls are typically prohibitively costly. It's critical to have access to some free international calling services, especially if you work overseas for a living.
The majority of the free international phone service providers utilize Voice over Internet Protocol (VoIP) to connect you. It's just another fancy title for converting your voice information into digital format and connecting you via your broadband connection.
Since we wanted to serve the greatest number of individuals, only websites that provide free calls to both mobile phones and landlines were included. The amount of supported regions/countries and languages was also a consideration for our selection process.
We hope you would find our list useful. If you do, please share it with your friends too so that they can enjoy free calls to their loved ones.
Without further ado, here are the top sites that provide free international calls.
See Also: Free International Calling Apps
Best Free Sites for International Call
1. PopTox
Poptox is an easy-to-use website that allows you to make free phone calls to mobile and landline phones from the browser. It is not necessary that the receiver end-use the PopTox.
No download or plugin, No Payments!
Enter your phone number and make a call.
Here is how to make free call using PopTox
Go to www.poptox.com.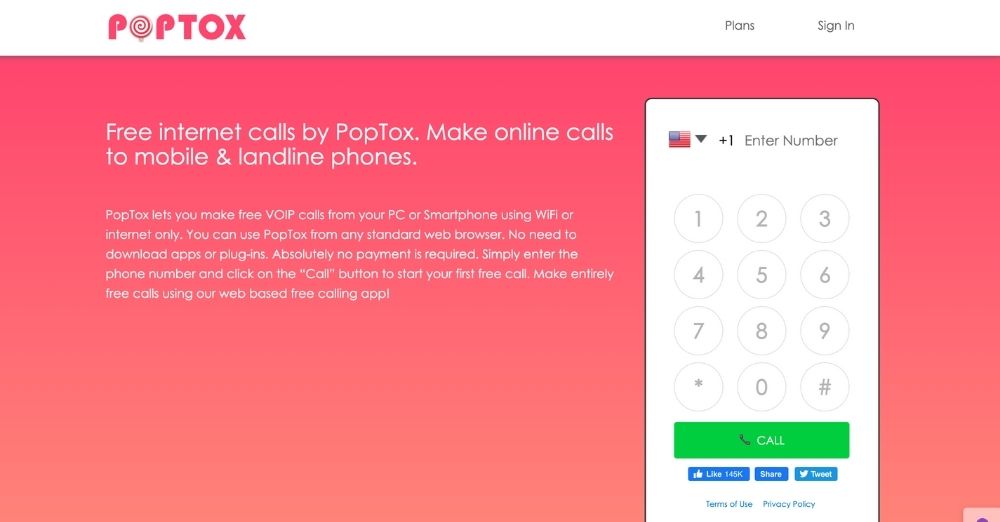 Enter the phone number you wanted to call.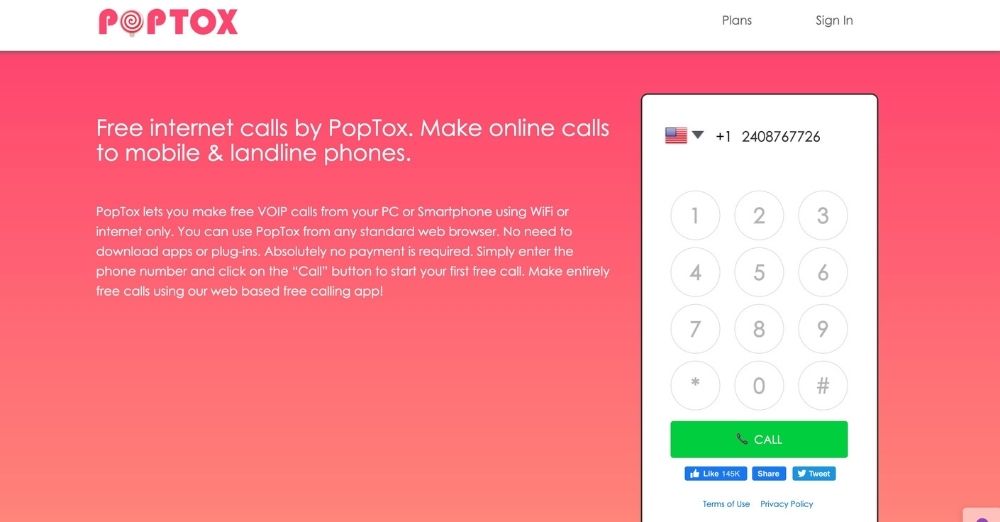 Hit call button.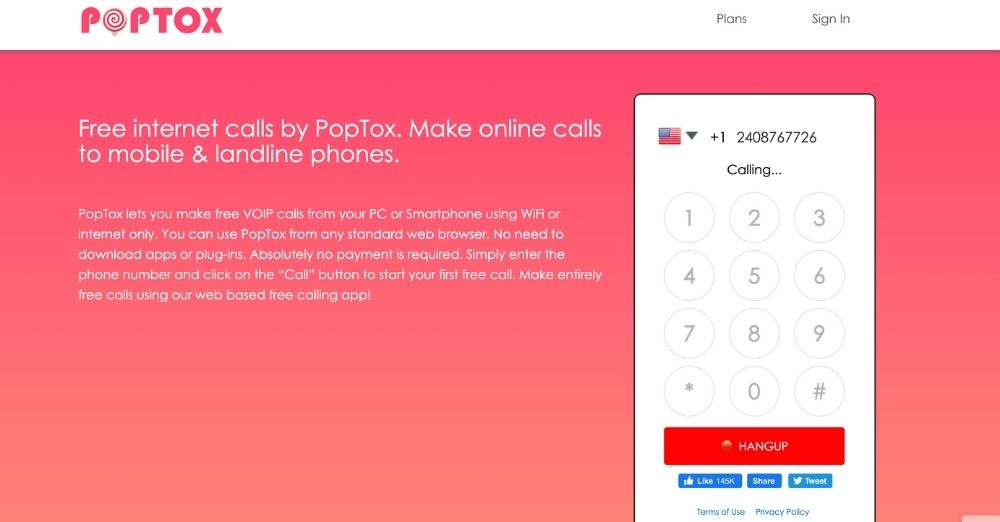 Pros:
It is entirely free.
Applicable on any web browser.
It is based on the web browser, so no need to download any apps.
Cons:
You can make a limited number of calls for a limited time in a day.
Signing up and upgrade to unlimited calls via Poptox is always an option for you. The good news is if you are unsatisfied with the service, you will get a refund on your total payment.
2. Globefone
It is known as a free online phone project established to fetch communications services like SMS and international call throughout the world.
This project believes communicating with loved ones living across the nation should never be a complicated process.
It is free and easy to use. It can make calls, send SMS, make video calls, and share P2P files.
The most exciting part of this website is it run directly on a web browser. You don't have to download any applications or plugins.
Here is how to make free call using Globefone
Go to globefone.com. You will have four options video calling, file sharing, SMS, and calling. Choose an option to make a call.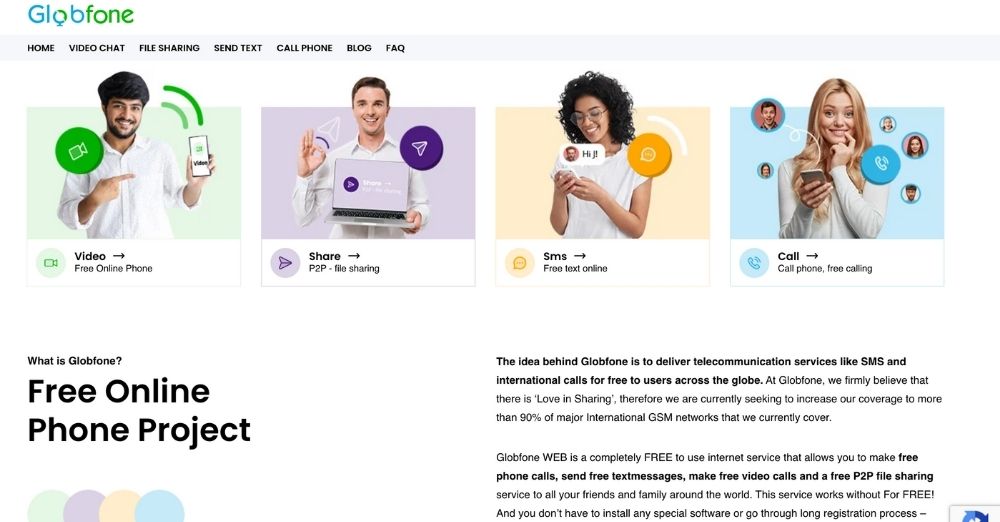 Enter your name or phone number, hit next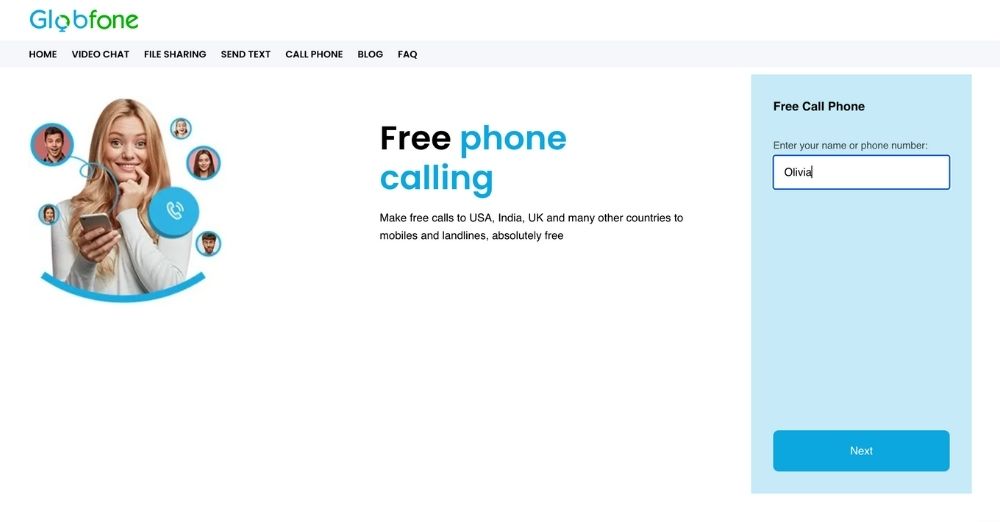 Select country, enter a phone number, check I'm not a robot, and make a call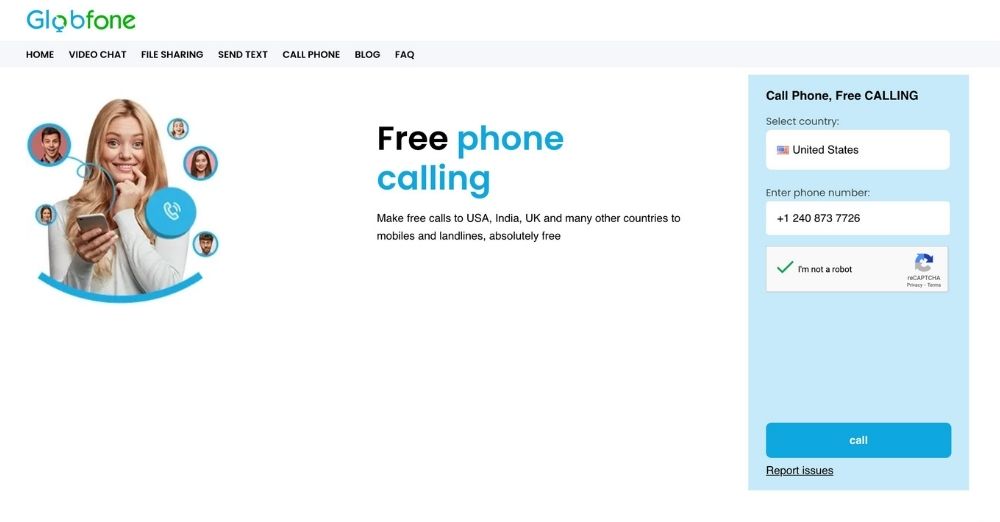 Since it's free and making your life easier, there are no cons. But here we have included some pros and cons that you can compare with some other similar websites.
Pros:
It is entirely free and available in all locations.
Provides great options like video calls.
Safe and easy to use.
Cons:
It may have some connecting issues.
3. Citrustel
Citrustel is a fully web-based, easy-to-use free international calling website. Like others mentioned above, you do not have to install any applications and plugins to use this service.
One main thing to consider before using this website is, it may not provide service to all the countries. In such a case, it refers its user to Spytox, which is another free calling website.
If you liked the service provided by citrustel, you could purchase credit for more minutes at a minimal cost.
It provides VoIP calls only. It tracks phone calls through IP addresses. Since this service is easy to use, a call can be completed in few simple steps.
Here is how to make free calll using citrustel
Go to citrustel.com.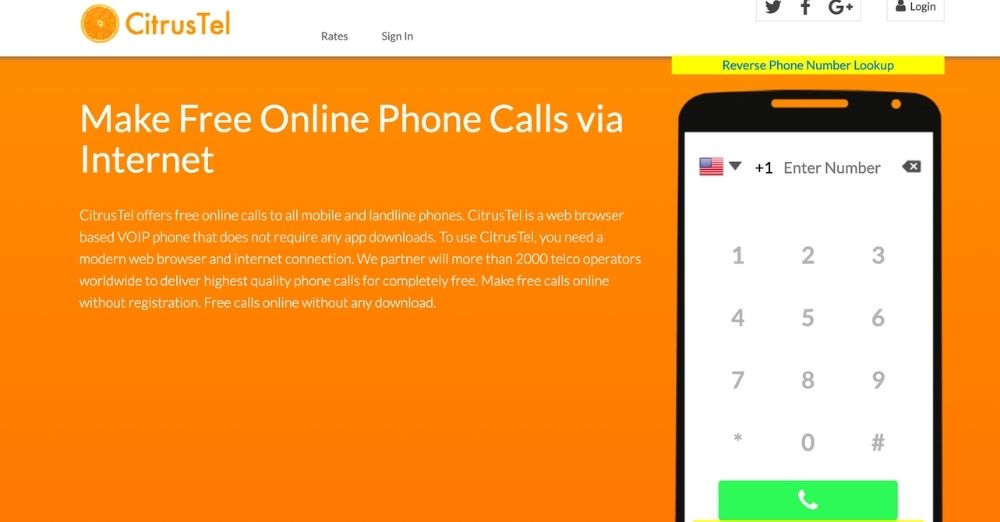 Choose the recipient's country, dial the number with country code.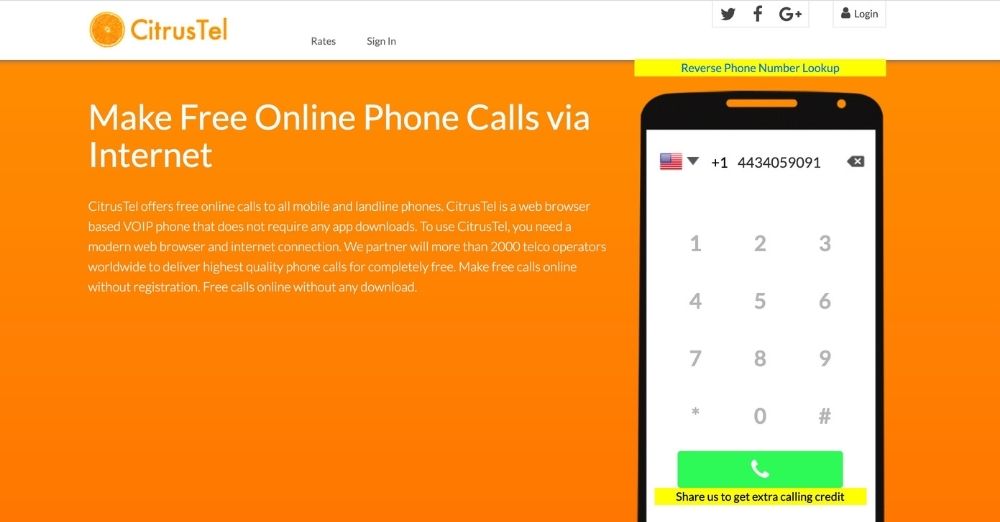 Make a call.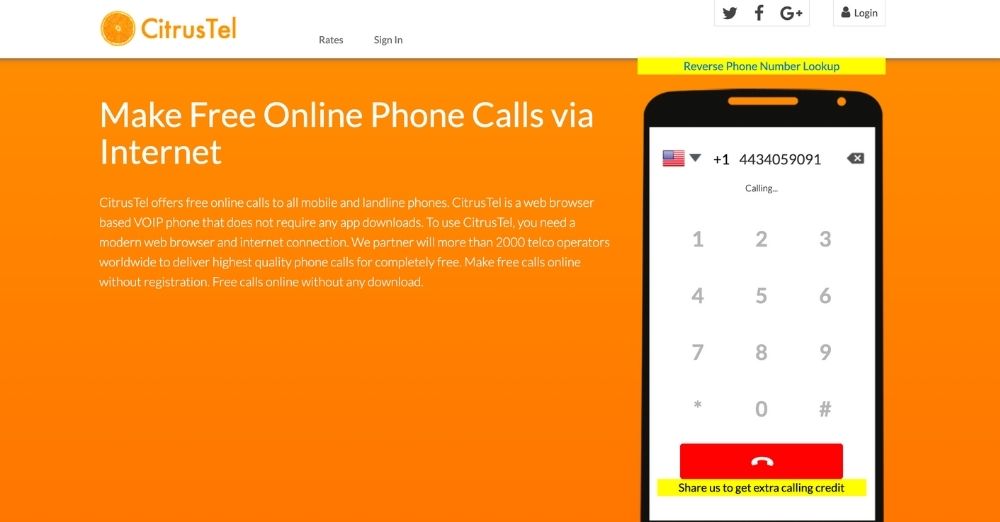 After making a call, you might receive a message with the referral to Spytox if it does not provide service to your recipient's country.
Pros:
Secure and easy to use call service
Quick connectivity
Cons:
Does not provide service globally
4. Spytox
Spytox is a website that allows you to look up people's phone numbers and emails worldwide. Overall, it provides VoIP calls, SMS, emails, and address lookup services. Including that, it provides service for free international calls.
To use spytox, you do not have to download any application or plugins. It is an entirely web-based easy to use service. It tracks calls throughout the world by IP addresses.
You will have three mins free international calls per day on Spytox.
Here is how to make free call using Spytox
Go to spytox.com.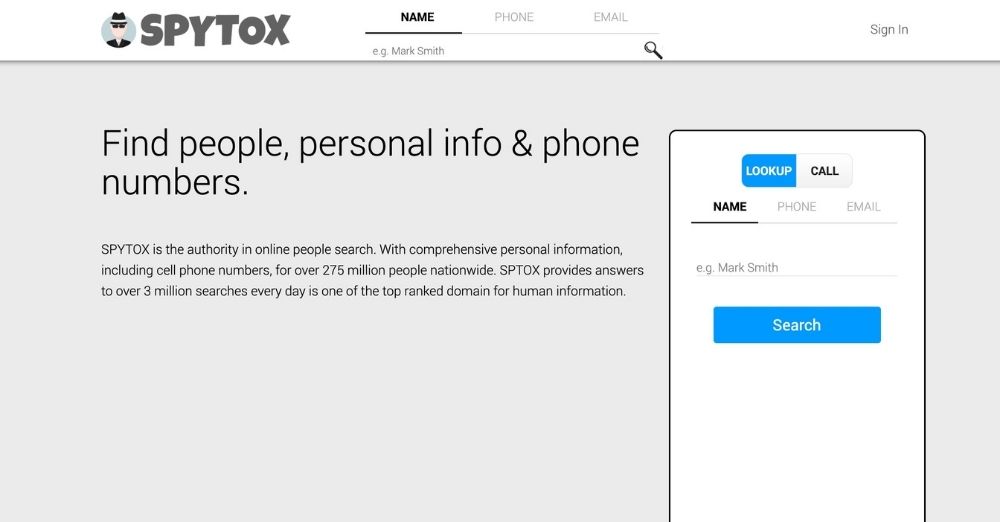 There are two options LOOKUP and CALL, click CALL, choose the recipient's country, and dial the number.
Make a call.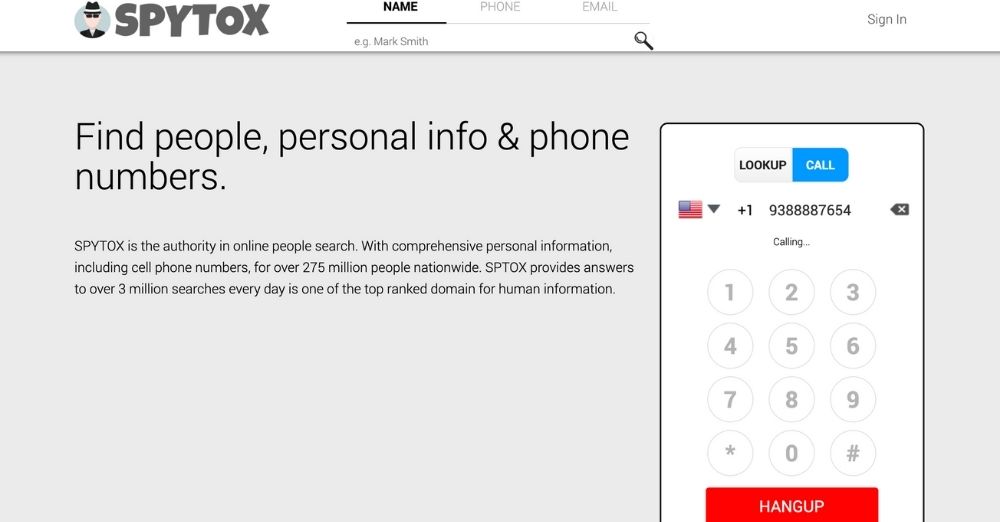 Pros:
Provide services globally, in almost every country.
Compatible with all browsers, but the latest version is preferred.
Cons:
The limited-time of free calls per day.
Related: Best Free Calling Apps
5. iEvaphone
This website is easy to use free call service which allows you to call from a PC or mobile with the help of the internet only. You can use this service regardless of your location. You can make a call to mobile and cellular phones.
The best browsers to make a call through iEvaphone are Chrome and firefox. You should require a browser with WebRtc support.
The only device that should be online is yours, not the recipients.
No download, no plugins, no payment, only free calls to your loved ones.
Here is how to make free call via iEvaphone
Go to ievaphone.com.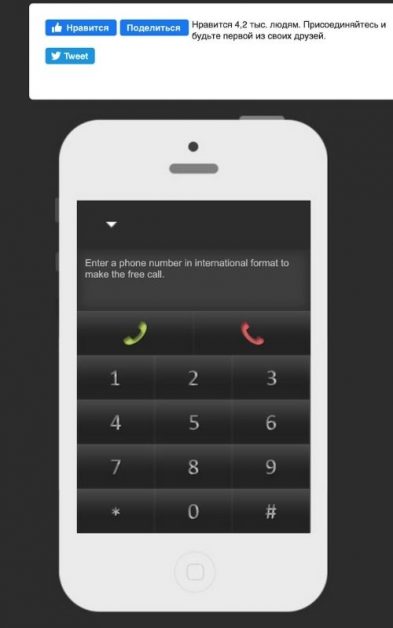 To make a call, you must enter the numbers with country codes.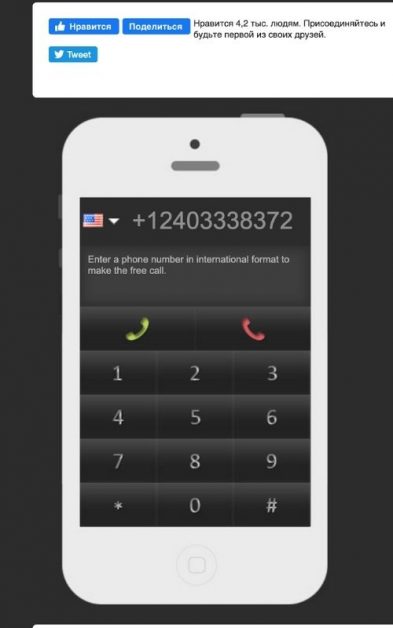 When you hit the call button to make a call, a pop-up window appears to allow your microphone to make a call.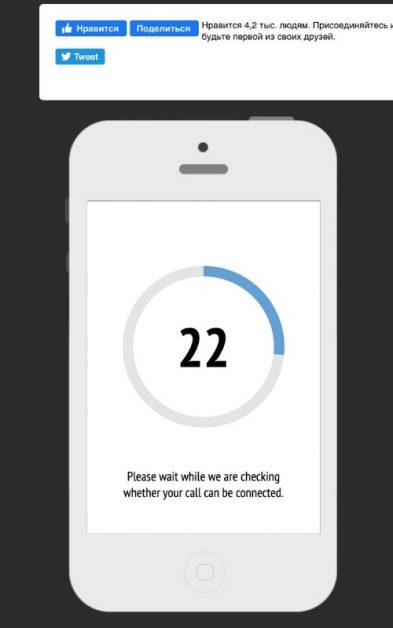 At this point, you already knew the steps to make a call using iEvaphone.
Pros:
It is entirely free.
You can make a call without any download.
Cons:
You need browsers with WebRtc support.
You might have a wait time.
May not have free call service to countries with expensive call rates.
Unfortunately, if you want to make unlimited cheap calls from iEvaphone, it does not have paid international calls from the website. You should download apps to make paid international calls.
6. Call2Friends
Call2Friends is an easy-to-use best free international calling website. It claims to make a high-quality international call. Calls can be made on mobile as well as landline phones.
It is a web browser-based phone call service. You can either register at very minimum fees and get high-quality service or make a free call. We know you are here to learn the ways to make a free call. So, here we have included,
Here is how to make free call using Call2Friends
Go to call2friends.com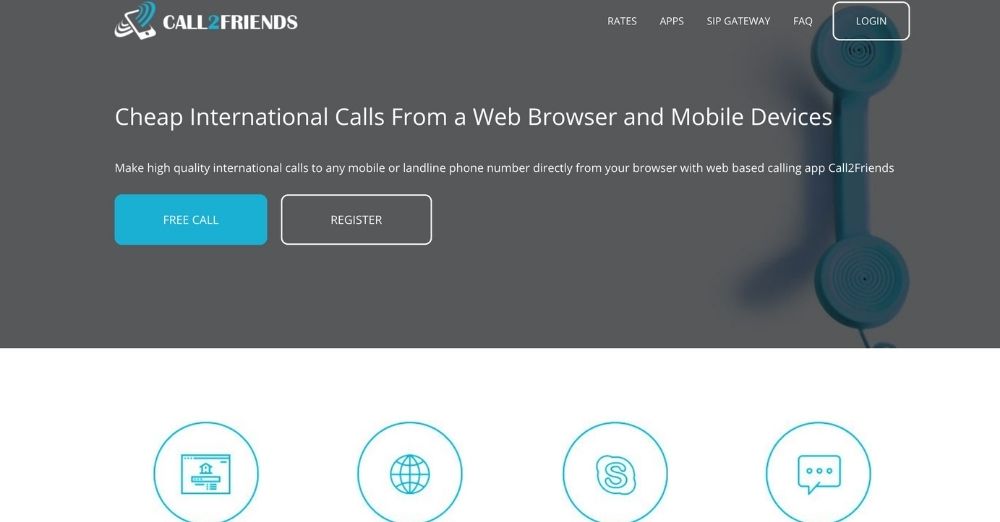 There is a free call button; click that.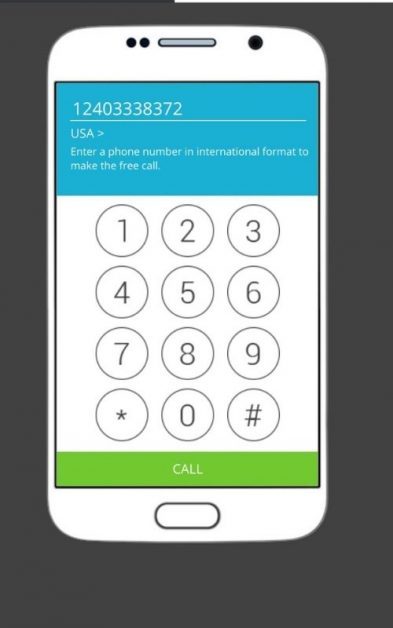 Dial the number with the country code and make a call.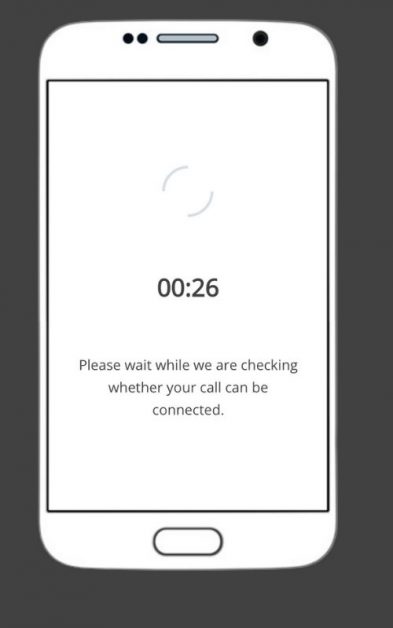 Now you know the steps to make a call; here are some of the pros and cons of call2friends website.
Pros:
A free call can be made without registration.
No need to download any apps or plugins.
Cons:
You will require a browser that supports the Webrtc protocol.
The time duration and destination for a call are limited.
You might have a wait time of less than a minute.
You can see the time duration you have during the conversation so that you can plan accordingly. There are no hidden fees to use this service.
7. WePhone
Wephone is mobile app registration free application to make free international calls. It provides service for VoIP calls only and uses an IP address to track your call.
Even if it is free, there is no available list of countries you can call. So, it is worth trying once.
Wephone provides you credit amount instead of free call minutes. It provides $0.2 free credit so that you can make the call of that credit limit in case of emergency. $0.2 might seem less, but it is equivalent to approx—23 minutes of free calls to the US. You can calculate the number of minutes of free call to you call destination country.
Here is how to make free calls using WePhone
Go to wephoneapp.com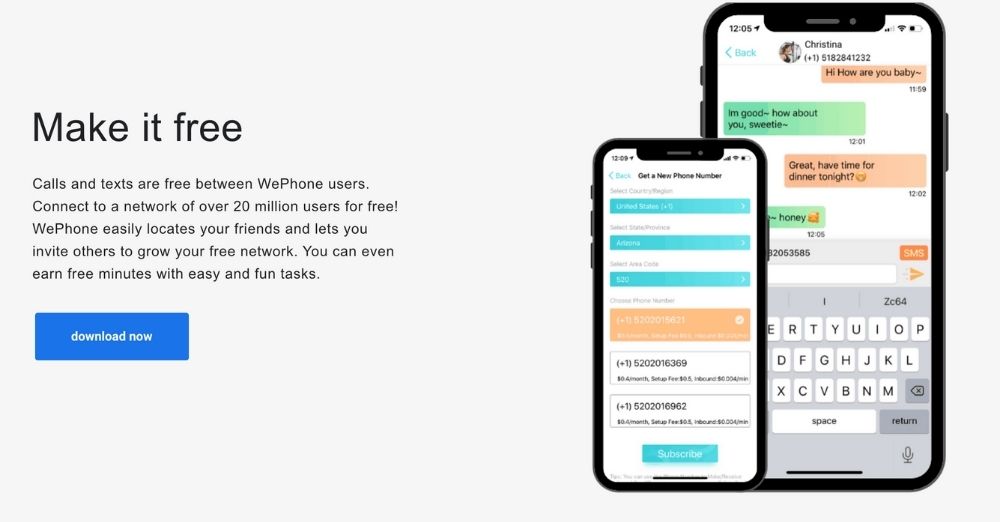 Download the compatible application on your device.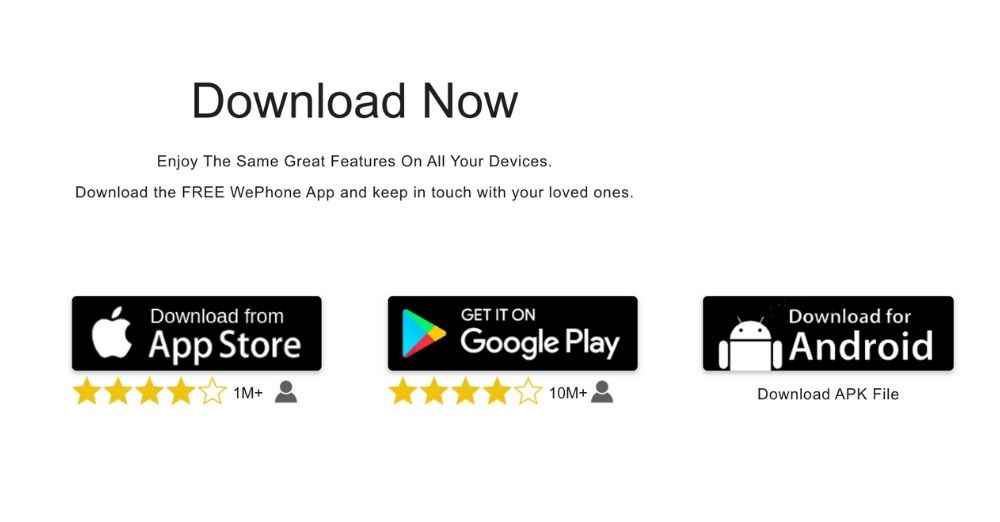 Enter the recepients number with country code and make a call.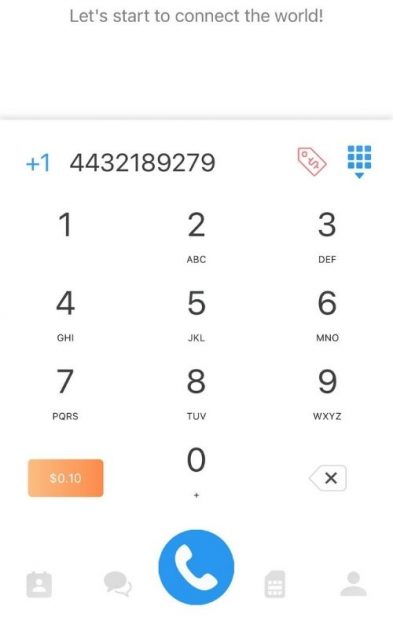 To make a free call, both users should be wephone users.
Pros:
No registration, only download.
Cons:
Limited credit is available.
Provide service to limited location only.
Pro Tips to make Free International Call
All the websites mentioned above might not provide service to all existing countries. A website known as VoIP Catalog has information regarding the websites providing VoIP call services.
If you want to learn further about websites that help you make the international call free of cost in your desired location, you can visit voip-catalog.com.
Once you select the desired location on the homepage of the VoIP catalog, it will redirect you to the available list of VoIP service provider websites to your destination country.
Final Words
Websites mentioned above are using VoIP technology to set up a free international call. They are web-based services. You do not have to download any application or plugins on your device. You don't even need to sign up on the above websites to make a call.