Do you want to make money on YouTube? Here is how you can do it yourself from home. Interesting, do you know that how much does the world's highest-earning YouTube star earns?
Recently, the news published by Daily Mail shows that the world's highest-earning YouTube stars earn up to $15 million a year, and collectively, the top 10 YouTube stars earned $70.5 million in the year 2017.
Some years before, popular YouTubers are confined only to U.S.A, Canada, the U.K., Australia, and other European countries. But these days, due to the broader availability of the internet with good speed, many rookies from Nepal, India, and other Asians are also making good enough from YouTube.
These days, YouTube is means of earning from individuals to the celebrity and media organization.
Do you want to start up by yourself to make money on YouTube? If you want to know how people are making money on YouTube, keep on reading. You will get all information to start your own YouTube Channel, which is only meant to earn from YouTube.
---
How to Make Money on Youtube
---
It is straightforward, and the other good news is that you do not have to spend a single penny to earn from YouTube.
At first, make a YouTube Channel.
Make videos and upload them to your YouTube Channel.
You will earn money from each view of your videos.
You have to make awesome videos to attack the users.
Few Tips To Start-Up
---
Step 1: Create a YouTube Channel
---
If you already have a Google account, you can use that account to Sign in to YouTube Account and create a YouTube channel.
---
Step 2: Enable Your Channel for Monetization
---
Sign in to your YouTube account.
Select your account information from the top right and select Creator Studio.
Select Channel > Status and features from the left menu.
Enable Monetization.
Accept the agreement.
---
Step 3: Connect Your Channel to AdSense
---
After enabling monetization for your YouTube channel, you need to connect your approved Adsense account with your YouTube channel.
You can use YouTube Analytics for the performance of your YouTube Channel.
---
Step 4: Review Video criteria and Ad Formats
---
There are specific criteria for the video and YouTube Advertising Formats.
Video Monetization Criteria
Videos must be advertiser-friendly.
You have to create the content, or you have to take permission to use it commercially.
You must be able to provide the documentation proving that you have commercial rights to that content.
Your content must comply with YouTube's Terms of Service and Community Guidelines.
YouTube Advertising Formats
Once the monetized videos are enabled, several formats ads might appear next to your video, as shown below.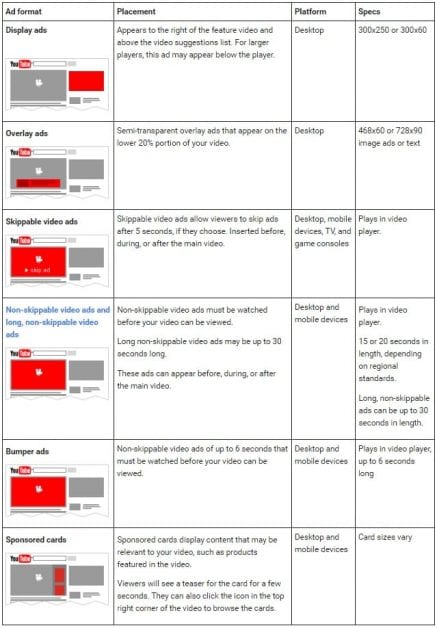 ---
Step 5: Monetize Videos with Ads
---
Now you are done with the monetized videos with your AdSense account. You can enable eligible videos to monetize with Ads.
---
About This Article:
This article is prepared with reference from the official site of the YouTube Help Center.
---