iPhone X Notch remover is Now Available in App Store. Apple finally approves the iPhone X notch remover app for the App Store. Interestingly, an app of this type is seemingly forbidden by Apple's developer's guidelines for the iPhone X; anyway, Apple has approved an app to get rid of notch on iPhone X.
Apple approves the app despite begging users and app creators to embrace the notch. Below is the paragraph regarding drawing attention to the sensor housing.
"Don't mask or call special attention to key display features. Don't attempt to hide the device's rounded corners, sensor housing, or indicator for accessing the Home screen by placing black bars at the top and bottom of the screen."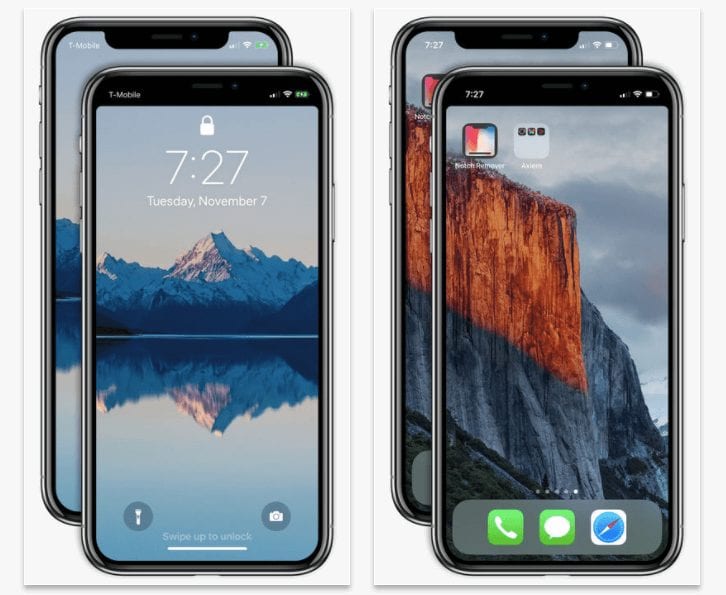 Axiem System introduces the iPhone X notch remover app, and It will cost you $0.99.
The app adds a black bar across the top of the selected images that the user can manually assign as wallpaper in iOS settings. Steps to hide the notch with Notch Remover are given below. But in reality, it does not remove the notch area.
In the App description of Notch remover, it is mentioned that it modifies the wallpaper to adjust for the notch. Functionally, it will not change how apps function or how videos look in your iPhone X. It means notch remover only works on the home screen background and not on any other apps. So, if you are desperate to see fewer notches in your iPhone, probably a $0.99 value notch remover will be the best option at the moment.
Moreover, even after the notch remover, the device will still display the time, signal strength, and battery life in their respective spaces. So, you cannot get rid of the notch entirely.
---
Here is how you can hide the notch with iPhone X Notch Remover
---
Download iPhone X Notch Remover app from App store
Launch Notch Remover
Tap Select Image
Browse the images in your camera roll and select image for wallpaper
Tap Save to store the converted wallpaper image in our Photos library
Go to Setting
Select Wallpaper
Select Choose New Wallpaper
Select New Wallpaper; you can zoom in or out to align black bar displays correctly.
Tap Set, Choose Set Lock Screen, Set Home Screen, or Set Both
Finally, your notch will be removed from the end display of the home screen and lock screen.
---