When it is time to travel, one obvious concern for almost all of us is how to book cheap flight tickets for this trip. It is because there is no standard fixed rate of flight fare in any airline.
If you follow some of the tips we mention here, we hope you can save money for your next trip while booking the flight.
---
Pro Tips to Book Cheap Flight Tickets
---
1 – Always search flight tickets in incognito mode
Almost all airlines set their flight fare by the demands of tickets. If you repeatedly search the particular flight ticket without the private mode in your browser, you might see that the price becomes expensive than your previous search. If you browse the same queries in the private mode, it blocks the browser from saving the cookies. That's why it is always a good idea to search for your flight ticket in incognito mode.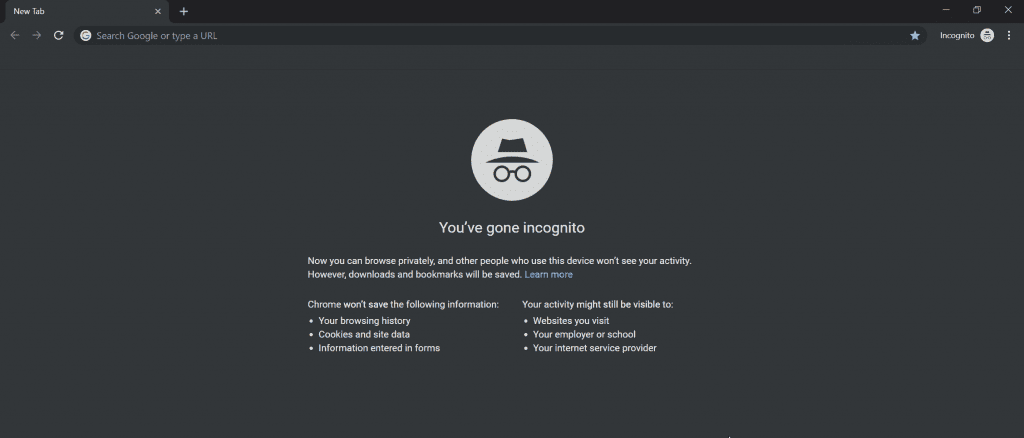 Here is how to enable incognito in various browser
Google Chrome → Press Control + Shift + N
Mozilla Firefox → Press Control + Shift + P
Safari → Command + Shift + N
Microsoft Edge → Control + Shift + P
Opera → Control + Shift + N
Internet Explorer → Control + Shift + P
When you visit the website, cookies required by the website are stored in your local machine in normal browsing mode. But incognito mode forgets any local data on the web browsing session, and any cookies a website tried to upload on your computer are blocked and deleted.
---
2 – Be flexible with your travel date
---
Airline fare depends on the specific day of the week, time of the year, and holiday time. For example, have you ever noticed yet that Christmas time flight tickets are expensive during the summertime than usual?
Even on the regular days, there is a significant difference in the flight ticket price. So the best way to find the cheapest day to travel to your destination is by browsing through Google Flight.
Google Flight will show you the cheapest date to fly to your destination throughout the month.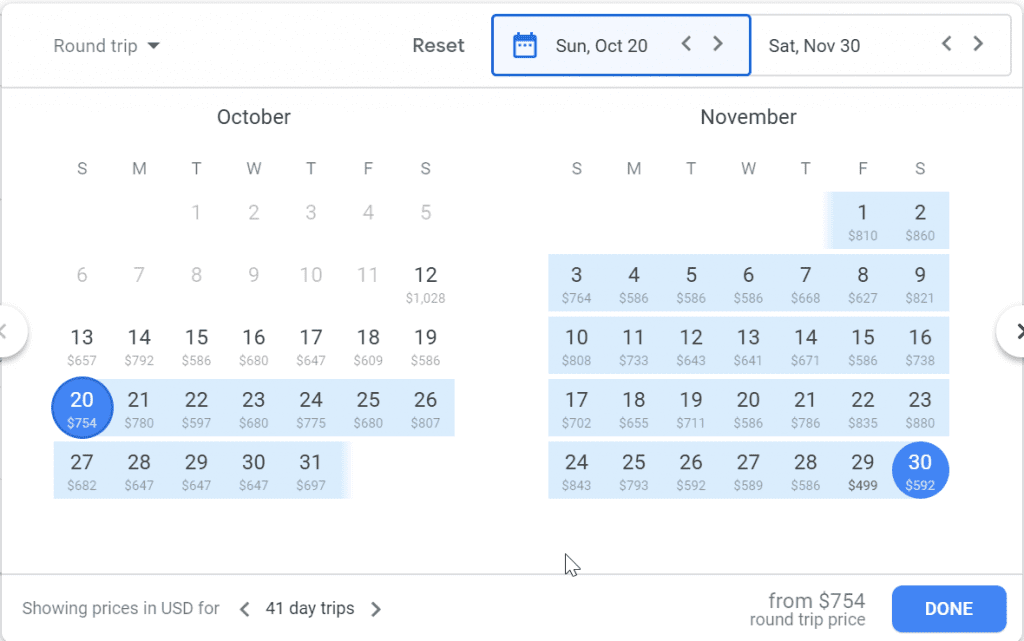 The above image is the round trip flight fare chart from Washington, D.C. to Paris shown on Google Flight. You can see that the cheapest fare is $499, whereas the expensive fare for that particular destination is $880. So, you can save up to $380 if you are flexible with your travel date.
That's why if you become flexible with your travel date, you could save a lot on your flight ticket.
---
3 – Try some of the most popular flight search engines
---
Airline ticketing is one of the most popular businesses in the current market. There are various websites and search engines in this business offering great discounts on flight booking.
But the truth is that if you search for the flight ticket on only a website or search engine, you might end up paying more than the cheapest deal available at that time. So you have to go through at least 3 to 4 different flight search engines or websites.
Here are our top pick flight search engines or website list to book a cheap flight.
a – Kiwi
Best for showing the cheapest deal by combining multiple airlines.
b – Skyscanner
Search most airlines and websites.
Most of the time shows the cheapest deal available in the market.
Easy to use, they have an excellent user interface.
Recommended for comparing the flight dates.
d – Momondo
Search most airlines and websites.
Search budget airlines, non-English websites too.
e – AirFare Watchdog
Perfect place for finding airline errors to get unexpectedly lower flight tickets.
f – Cheapoair
g – JetRadar
---
4 – Book a flight ticket from the travel reward card
---
Signing up for the travel reward credit card is also an excellent option to save your money while booking the flight. Booking your flight from a travel reward card will award you a point on your every spending. You can spend that reward point later on while booking your flight for the next trip.
Here is our top pick travel reward credit card.
a – Chase Sapphire Preferred
Earn 60,000 rewards points (worth $750) after spending $4,000 in the first three months.
Rewards points are transferable to frequent flyers and hotel programs.
2X points on spending on travel and dining at restaurants worldwide.
Best for the beginner as well as frequent travelers.
b – Bank of America Travel Reward Visa Credit Card
Earn 25,000 online bonus points (worth $250) after spending $1,000 in first 90 days.
Redeem points for a statement credit to book your flight ticket
Best for travel as well as everyday spending
Some other top travel reward cards
c – Chase Sapphire Reserve Card
d – Marriott Bonvoy Boundless Credit Card
e – Capital One Venture Rewards Credit Card
f – The Platinum Card from American Express
g – American Express Gold Card
h – Southwest Rapid Rewards Premier Credit Card
g – Southwest Rapid Rewards Plus Credit Card
h – United Explorer Card
i – Platinum Delta SkyMiles Credi Card from American Express
j – Hilton Honors American Express Surpass Card
---
5 – Sign up in the travel reward program of airlines to book a cheap flight
---
The airline reward program is a great way to save money no matter how often you fly. If you are a frequent traveler, this might save you a significant amount of money.
These days many airlines partner with other airline companies, so that's why you can use your earn miles in multiple airline companies.
For example, you can use your earn miles from United Airlines in Air Canada, Air China, Turkish Airlines, etc. Similarly, American Airlines earned miles can be used in British Airways, Cathay Pacific, Japan Airlines, Etihad Airways, etc. Likewise, Qatar Airlines made miles can be used in American Airlines, British Airways, Cathay Pacific, Finnair, Malaysia Airlines, Japan Airlines, etc.
These are our top pick airline rewards programs.
a – Delta SkyMiles Reward Program
b – JetBlue TrueBlue Reward Program
c – American Airlines AAdvantage Reward Program
d – Alaska Airlines Mileage Plan
e – United MileagePlus Reward Program
f – Southwest Rapid Reward Program
g – Free Spirit Reward Programs
h – Frontier Miles Reward Program
i – Qatar Airways Qmiles Reward Program
j – Etihad Air Reward Program
k – Turkish Air Miles&Smiles Reward Program
---
6 – Fly with budget carriers
---
Budget carriers offer the cheapest ticket price in comparison to full-service counterparts. However, while traveling in budget carries, you should be prepared to compromise many aspects like leg room size in the airplane, food and drinks on-board, airport location, number, the weight of luggage allowance, etc.
Sometimes if you do not pay attention to the terms and conditions of the budget flights, you may pay the same as the full-service flight rate. Specially, we suggest you pay attention to the luggage restriction while booking the budget flight.
These are our top pick-budget flights around the world to book a cheap flight.
Asia
AirAsia
AirAsia X
IndiGo
Scoot
Jetstar Asia
PAL Express
Tiger Air
Jeju Air
Hong Kong Express
Peach
Citilink
West Air
Spring Airlines
North America
Southwest Airlines
WestJet
Air Canada rouge
Spirit Airlines
Allegiant Air
Frontier Airlines
Volaris
Interjet
Sun Country Airlines
VivaAerobus
South America
Sky Airline
Easyfly
Viva Air
JetSmart
Gol
Europe
EasyJet
Norwegian
Ryanair
Eurowings
Vueling Airlines
LEVEL
com
Pobeda
airBaltic
Wizz Air
Australia
Jetstar
Tigerair Australia
Scott
Air Asia
Middle East
flyDubai
Flyadeal
Flynas
Air Arabia
Jazeera Airways
These days budget airlines also service long-haul routes. So if you are trying to book an international flight, it is worth checking low-cost long-haul airlines.
Here is our pick for low-cost long-haul airlines.
AirAsia X
WestJet
Eurowings
Air Canada rogue
Norwegian
Jetstar Airways
Scott
---
7- Mix and match airlines
---
Usually, most flight search engines will suggest the route from a single airline and its partners. However, if you are traveling a long-haul flight, you might have the option of selecting multiple airlines for a different flight. Also, when you are trying to save money for your flight, this might be a wise option to keep your journey.
Some flight search engines such as Expedia, Kiwi.com, and Google Flights will suggest the cheapest deal to book your flight with the multiple airline options.
Accordingly, there are a few of the risk factors while you are going with this option. Sometimes if your flight gets delayed for some reason and if you missed your next connecting flight, there might be chances that you ended up with big trouble in that scenario. If you have multiple airlines booking, usually your connecting airline's companies are not responsible for your delay.
So that's why we suggest you do well research before booking your flight. You have to ask them either they are obligated to arrange the missed flight in case of a deal, or you have to manage on your own.
---
8 – Consider adding multiple stops if possible
---
For the long-haul flight adding 1 or 2 transit is an excellent option to save money. By adding transit to your flight, you can save a significant amount of money.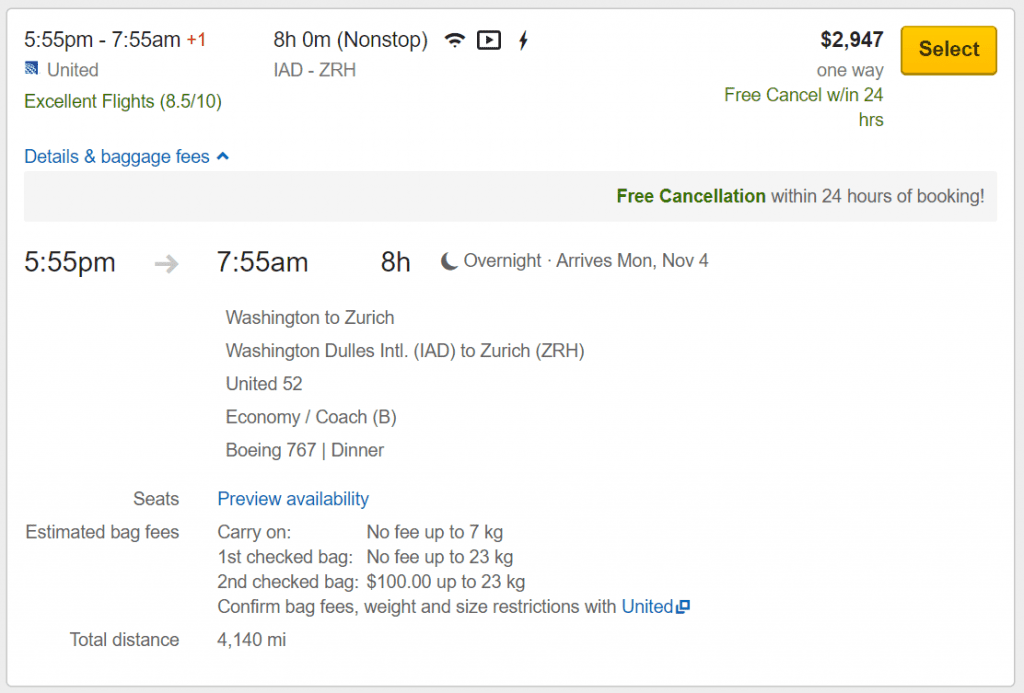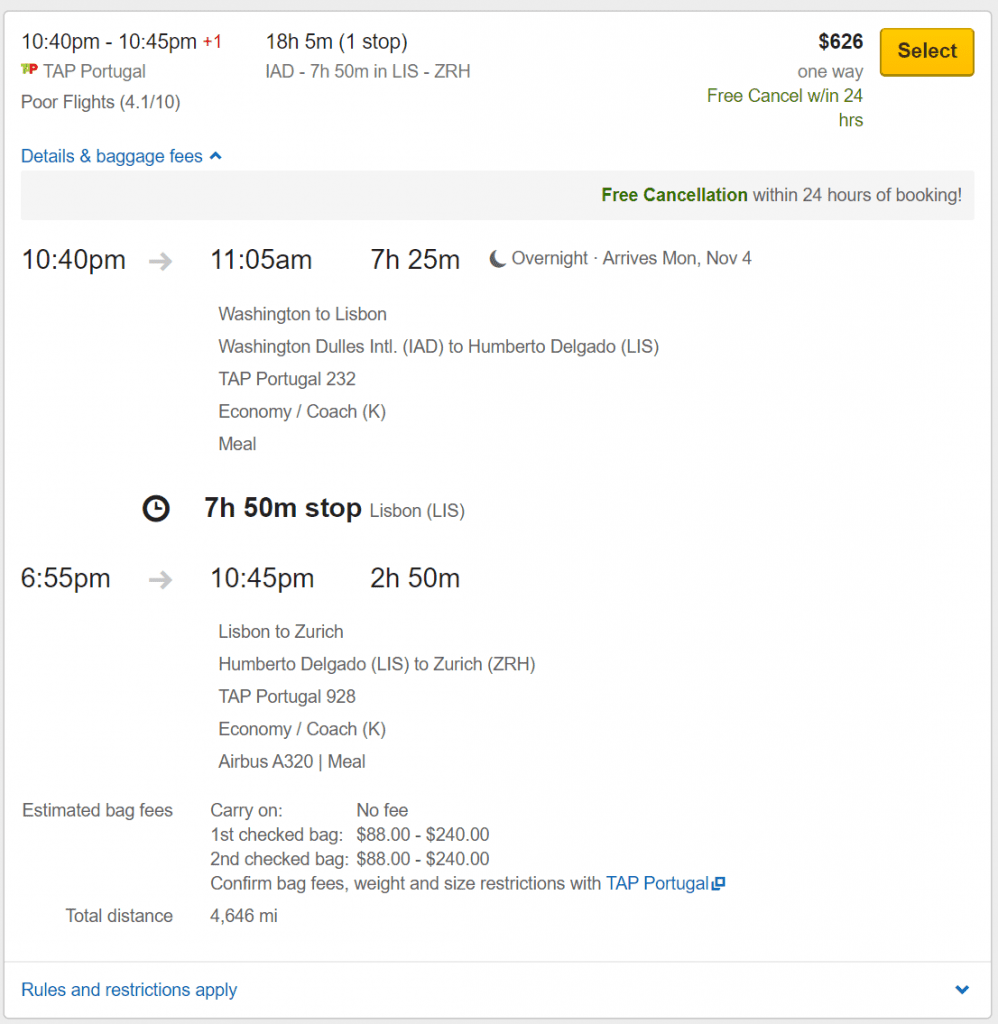 Here in the above two screenshots, we tried to book a one-way flight from Washington D.C. to Zurich international airport with one-stop and non-stop.
We see that a nonstop flight will cost you $2,947, whereas if you add only one stop at Lisbon, it will cost you only $626. So having just only one transit on your way could save you more than $2,300 – which is a lot!
Thus if you want to save money for your flight, consider adding 1 or 2 transit, especially if you're traveling a long trip.
---
9 – Early booking could save you money
---
If you have a planned trip, booking your flight early will help you to save some money. Usually, Airlines will hike the ticket price closer to the departure date. Booking very early is also not recommended; 8 to 10 weeks before the departure date is a good time to find the best deal.
But if you are planning to travel during the summer or other popular holiday time, we suggest you book your flight at least 2 to 3 months earlier. Thus, early planning is also one of the critical aspects of booking a cheap flight.
---
10 – Search flight fare in different currencies
---
This option will not work every time, but we have some experience that having the flight book in the currency rather than USD could save your money. Bear in mind that the credit card you are using should not charge you the foreign transaction fee; otherwise, you might be ended up paying a hefty price for your credit card, which will instead lose money rather than saving.
**********
If you follow the above guidelines, it will help you book a cheap flight ticket for your next trip.
If you come up with any new idea that we forget to mention above, please drop your comment below. And for more guides like this, like us on Facebook, Twitter, or subscribe to our newsletter!
---