Bigo App is the new revolutionary apps in the field of communication. Many of us might not believe that how it is possible to make the free call all over the world. Yes, of course, there are many mobile  or PC apps which allow you to make free call all over the world. Among those apps, Bigo is the one of the best choice for you to make the free national and international calls.
---
What is Bigo?
Bigo is the revolutionary communication app through which you can make a free call everywhere in the world.
---
In Case You Miss It :
WhatsCall Free Calling Mobile App
Download Nanu App for Free Call 
Download Libon Free Calling App
---
Where can you make a free call through Bigo ?
With the Bigo , you can make a call all over the world including Nepal, India, U.S.A, U.K, Australia, Japan,Germany,South Korea, Saudi Arabia, Malaysia, Qatar, U.A.E., Hong Kong, and other more than 230 countries or regions.
---
Key Features:
Free call in both mobile and landline all over the world without the internet. Only the requirement is you need to have the installed Bigo in your mobile phone.
Bigo to Bigo unlimited talk everywhere in the world.
Free texting all over the world.
Ultra HD video call is available in Bigo app.
Earn more credits by inviting the friends. Every single invitation of your friend will add 20 minutes more talk time credit to your account.
---
How to use Bigo ?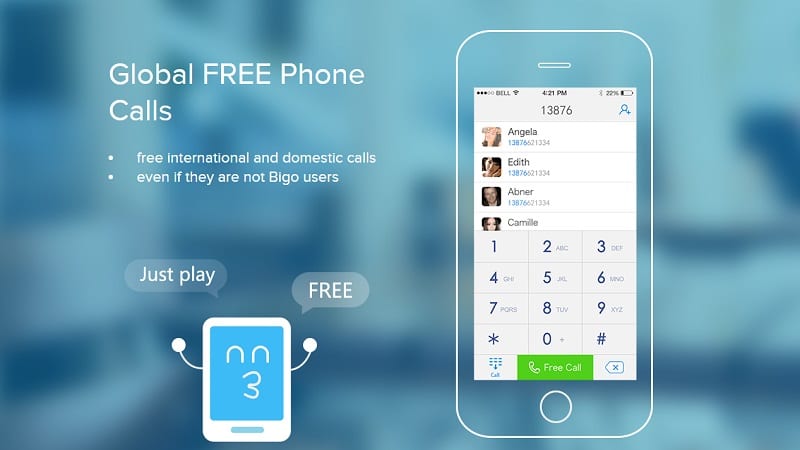 To download the Bigo , you will find the download link at the bottom of the page.
Download and install app in your device.
Ope the app, click sign up button.
Enter your country name and phone number.
Accept the user agreement and click on the next sign on top right corner.
You will receive the pin, enter that pin and continue.
Enjoy the unlimited free call of Bigo .
---
Download Bigo App:
---